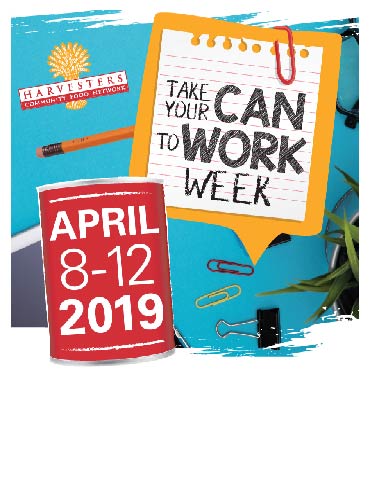 As a team, ISSCO is committed to giving back to the Kansas City area. From blood drives to food pantries, ISSCO tries to give back in at least some way as a group each quarter. ISSCO is partnering with Harvesters KC on their campaign "Take Your Can To Work Week" on APril 8 - 12, 2019. ISSCO has pledged to collect 125 cans, and raise $125. Help us meet our goal, and ultimately help those less fortune in the KC community. If you'd like to support this initiative, drop off (or send) your non perishable goods to ISSCO - 405 SE Bailey Road, Lee's Summit, MO 64081 or call 816-525-8889 for additional information! Thank you for your continued support!
Did you know?
In our region, 1 in 7, or more than 350,000 people are food insecure. That means they may have a meal today, but don't know if they will have enough food tomorrow. With the help of food drives like these, Harvesters' network is able to serve more than 141,500 people each month!
Can you help?
Our organization is excited to participate in this years Take Your Can To Work Week to fight hunger and help local families in need. Please help us by collecting nonperishable food items for Harvesters or donating online at
www.harvesters.org/takeyourcantoworkweek.
Most Needed Items:
Canned Vegetables (Low Sodium)
Canned Fruits in 100% Juice
Canned Chicken, Tuna, Salmon
Canned Soup
Whole Grain Pasta
Peanut, Almond, or Sun Butter
Cereal – Hot and Cold
Brown Rice