Davis Family – Fastener Minute or Two…
Welcome to our blog. Read more about ISSCO, Inc. and our products and services!
2 minutes reading time
(454 words)
Employee Recognized as Top 30 in 30 Partner for Warehouse1
Kansas City, MO – ISSCO, INC.'s salesperson, Jennifer George, was recognized as a Top 30 Partner in Warehouse1's first 30 years of business. This honor is awarded to Jennifer for her continual efforts to provide exceptional customer service.
The CEO of Warehouse1, Mary Lou Jacoby, speaks about the selection process for the 30 in 30 Partner Awards.
"We spent several weeks pouring over our spreadsheets that list and rank past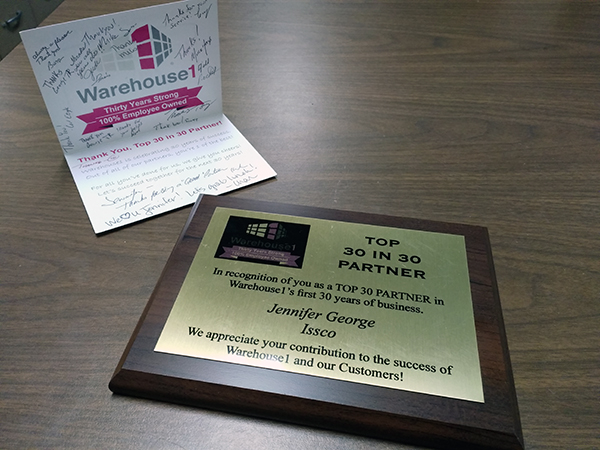 customers that have been loyal for the last 30 years. Our goal was to recognize and thank the people and companies that have been our customers for decades and tell them how much we appreciate their friendship and loyalty. And what an honor it has been to share their success and growth and how proud we were to be a small part of it.
As we were choosing these valuable customer companies, we had a discussion around the concept that we didn't do this alone, and that our success in supporting our customers was possible because we had the best and most supportive partners, manufacturers, and distributors.
Without the best product, delivered on time, at the right cost, with the best advisors on application and use, and the friendship and ingenuity of our suppliers, we would be nothing. We decided that saying thank you to them was as or more important than thanking our customers.
The suppliers are the ongoing asset we should reward. And so the 30 in 30 Partner award was created! We need you every day for the next 30 years and we are proud to share in your success. It was time to let you know how important you are to our success."
The Warehouse1 operations manager, Dennis Delantonas elaborated specifically on Jennifer's work ethic and customer service.
"We have been working with ISSCO for over 10 years to supply our customers with the hardware they need. When we have emergency orders Jennifer George and ISSCO have always provided what we need or determined an alternate to make sure the hardware is shipped on time. Working with Jennifer and the support staff at ISSCO exceeds my expectations of customer service."
Congratulations Jennifer on this award, and for your continual positive attitude and exceptional work ethic you bring to ISSCO daily!
About Warehouse1:
Warehouse1 was incorporated in 1988 to provide material handling services and products to a broad range of industries and clients. Based in Kansas City, Missouri, our company is an employee-owned small business. Warehouse1 solves the material handling requirements of clients around the world through an experienced professional staff and a network of highly trained specialists. Utilizing our technical knowledge and expertise, Warehouse1 maximizes the use of vertical space and square footage within your existing and new facilities. For more information, visit https://www.wh1.com.